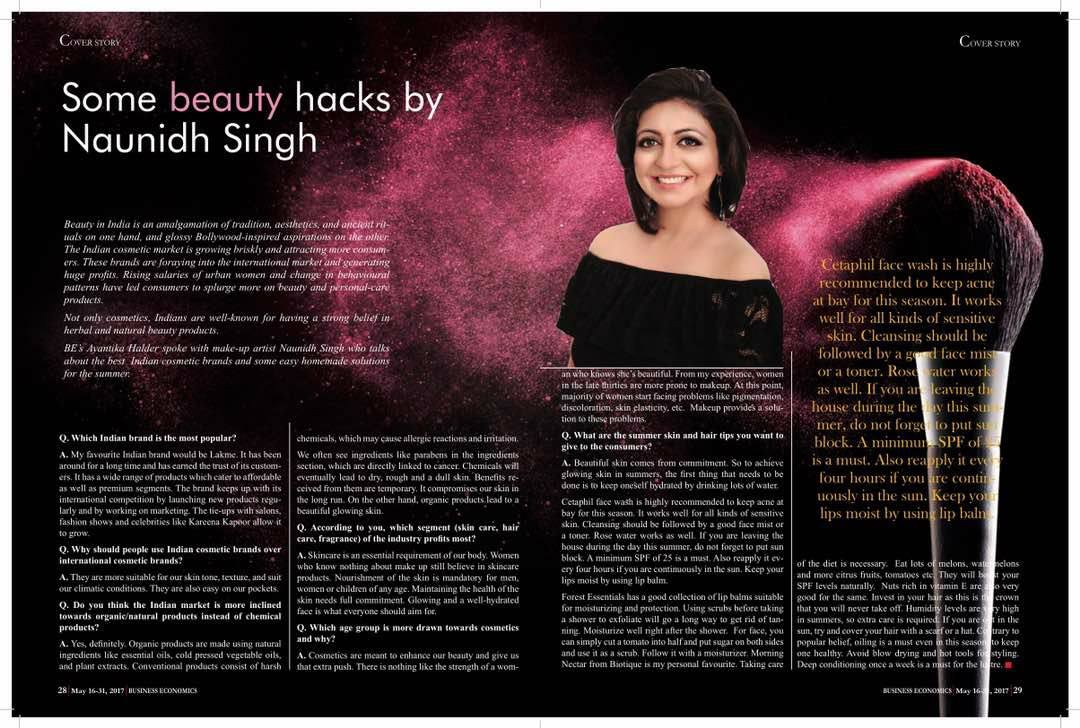 Posted on
October 10, 2017
Beauty in India is an amalgamation of tradition, aesthetics, and ancient rituals on one hand, and glossy Bollywood-inspired aspirations on the other. The Indian cosmetic market is growing briskly and attracting more consumers. These brands are foraying into the international market and generating huge profits. Rising salaries of urban women and change in behavioural patterns have led consumers to splurge more on beauty and personal-care products.
Not only cosmetics, Indians are well-known for having a strong belief in herbal and natural beauty products.
BE's Ayantika Halder spoke with make-up artist Naunidh Singh who talks about the best  Indian cosmetic brands and some easy homemade solutions for the summer.
Q. Which Indian brand is the most popular?
A. My favourite Indian brand would be Lakme. It has been around for a long time and has earned the trust of its customers. It has a wide range of products which cater to affordable as well as premium segments. The brand keeps up with its international competition by launching new products regularly and by working on marketing. The tie-ups with salons, fashion shows and celebrities like Kareena Kapoor allow it to grow.
Q. Why should people use Indian cosmetic brands over international cosmetic brands?
A. They are more suitable for our skin tone, texture, and suit our climatic conditions. They are also easy on our pockets.
Q. Do you think the Indian market is more inclined towards organic/natural products instead of chemical products?
A. Yes, definitely. Organic products are made using natural ingredients like essential oils, cold pressed vegetable oils, and plant extracts. Conventional products consist of harsh chemicals, which may cause allergic reactions and irritation.
We often see ingredients like parabens in the ingredients section, which are directly linked to cancer. Chemicals will eventually lead to dry, rough and a dull skin. Benefits received from them are temporary. It compromises our skin in the long run. On the other hand, organic products lead to a beautiful glowing skin.
Q. According to you, which segment (skin care, hair care, fragrance) of the industry profits most?
A. Skincare is an essential requirement of our body. Women who know nothing about make up still believe in skincare products. Nourishment of the skin is mandatory for men, women or children of any age. Maintaining the health of the skin needs full commitment. Glowing and a well-hydrated face is what everyone should aim for.
Q. Which age group is more drawn towards cosmetics and why?
A. Cosmetics are meant to enhance our beauty and give us that extra push. There is nothing like the strength of a woman who knows she's beautiful. From my experience, women in the late thirties are more prone to makeup. At this point, majority of women start facing problems like pigmentation, discoloration, skin elasticity, etc.  Makeup provides a solution to these problems.
Q. What are the summer skin and hair tips you want to give to the consumers?
A. Beautiful skin comes from commitment. So to achieve glowing skin in summers, the first thing that needs to be done is to keep oneself hydrated by drinking lots of water.
Cetaphil face wash is highly recommended to keep acne at bay for this season. It works well for all kinds of sensitive skin. Cleansing should be followed by a good face mist or a toner. Rose water works as well. If you are leaving the house during the day this summer, do not forget to put sun block. A minimum SPF of 25 is a must. Also reapply it every four hours if you are continuously in the sun. Keep your lips moist by using lip balm.
Forest Essentials has a good collection of lip balms suitable for moisturizing and protection. Using scrubs before taking a shower to exfoliate will go a long way to get rid of tanning. Moisturize well right after the shower.  For face, you can simply cut a tomato into half and put sugar on both sides and use it as a scrub. Follow it with a moisturizer. Morning Nectar from Biotique is my personal favourite. Taking care of the diet is necessary.  Eat lots of melons, watermelons and more citrus fruits, tomatoes etc. They will boost your SPF levels naturally.  Nuts rich in vitamin E are also very good for the same. Invest in your hair as this is the crown that you will never take off. Humidity levels are very high in summers, so extra care is required. If you are out in the sun, try and cover your hair with a scarf or a hat. Contrary to popular belief, oiling is a must even in this season, to keep one healthy. Avoid blow drying and hot tools for styling. Deep conditioning once a week is a must for the lustre.